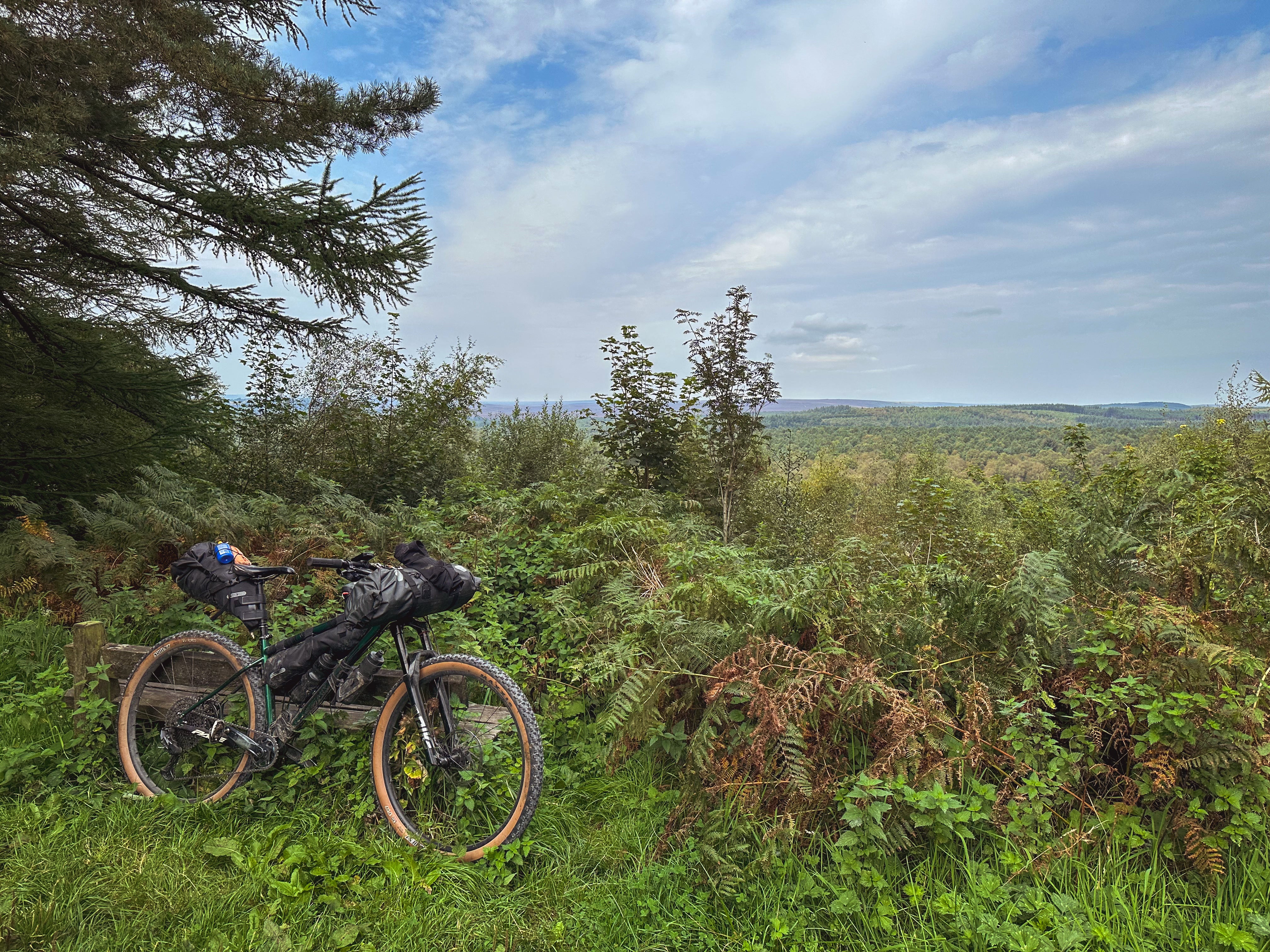 15-09-2023
Little on time.
Big on adventure.
155 miles off road with 4902m of ascent - The Tour De Yorkshire is one route you can't beat.
It Can Be Hard To Slow Down In The Busy World
Tour De Yorkshire - What a wild one! 2 ½ days of navigating myself on the RC529 through North Yorkshire enjoying beautiful places ive never seen, and some hills I never want to see again.

Day one. 70 miles. 6972ft of climbing.

I set off from home on a foggy Friday morning around 6:30am. I wanted to get as many miles in the morning as I knew the heat was going to turn up in the afternoon. Riding from Thornton Dale up through Dalby forest was beautiful, the sun was trying to break through and it felt fresh and still.
I covered some distance pretty quick as it was mainly fire roads before breaking up onto a heather filled Fylingdales Moor, some parts of the stretch was surprisingly still a bit boggy but not a big deal.
Then it was straight to Boggle Hole (the place where our RC295 is named!) I made an error here and missed the cinder track turn off which would've kept me high but instead I ended up down at the beach, with the tide in.
Without moaning too much I started to tackle to steps up from the beach, lugging my bike up until a lovely chap stopped and helped carry my bike up the steps - I owe your a pint if your reading this!
I then had a tough climb out of Robin Hoods bay, if you've been there you'll know exactly which climb I mean - you know the nice grim, steep tarmac one.
At the top of there I picked up the fast cinder track towards Whitby before coming off at Ruswarp. There was a sea fret so I didn't have much of a view but soon as I got to Ruswarp which is a more inland the sun came beaming through the clouds.
Bridleway of trods followed (ancient walk ways predating the roads and basically big stone slabs) I got warned of these but I found them super fun, cheeky lines at the side of them helped when they did get a bit too much, they just added a bit of spice!

Last time I did a bikepacking adventure I took my RC295 as the hardtails wern't in stock, this time I found myself even more buzzing at how fast and smooth the RC529 rolls. I already knew how well it climbed but later in my trip I appreciated this much more than I anticipated.
Before I knew it I was on the Esk Valley Walk Bridleway which was really fast, fun and flowing through lovely wide fields and little quiet woodlands.
Stopped for a pint at Egton Bridge to celebrate hitting over the 40 mile mark and devoured a really good sarnie of the cheese and pickle variety.
If you're in the area i'd really recommend this little pub -Horeshoe Hotel and Farmshop at Egton bridge, it's ran by a chap and his Mum with homemade food and smells incredible. I sat there for a little while enjoying a break because I knew I had a big afternoon of climbing coming up plus at least another 30 miles to do. Wondering if I was on a road right now I'd be there in no time but taking the longer off road route is much more fun.
Riding through such a pretty woodland - the kind where i'd pretend to my 4 year olds fairies lived and firing me down some fast singletrack following a river dropping me into Glaisdale.
Ive done this before with my Dad - bringing back childhood memories of night rides with him and eating Haribo sweets on the bridge at the bottom of the trail I had just came down. No Haribo on this trip but melted chocolate peanuts should suffice.

Climbing out of Glaisdale up a big old hill onto the moor which I could see shimmering in the sun. Luckily Glaisdale moor was a fast section and I enjoyed the feeling of warm air and dust blasting in my face just before dropping into Fryupdale when I was welcomed with an amazing view. Such a scenic place with vast views all around making me feel really small I then reached Fairy Cross just down the road from Yorkshire Cycle Hub where I picked up the bridleway towards Danby.
By then I was pretty thirsty so stopped at a pub in Danby and had a coke and a cheeky pint to get me through the last 15 miles.
The locals asked where I was going, I said "Kildale".
"That's just 2 miles down the road, you'll be there in no time".
"I wish! That not my route" I replied with. They wished me luck knowing what I was heading into.

It was 5pm and it was pretty tempting to do the short cut with already 55 miles in my legs. Because I'm stubborn and strong willed I wanted to stick to my original off road route - I jumped back on my bike thanking them for their banter and company and headed North to do another 15 miles on Guisborough Moor.

What a lonely and eerie old place that was, I felt very in the middle of nowhere almost feeling naive to be in such a rural place on an evening by myself. I quickly snapped myself out of it and had a word with myself, I ended up really loving the feeling of been completely alone with my bike in the evening sun, it was incredibly quiet with the crunching of terrain underneath my tyres was the only noise to hear.

This is North Yorkshire after all and not a BBC Drama, Sophie.
Quick singletrack through Guisborough Woods with a view over Guisborough was rather nice to see some civilisation again. When I hit Hutton Lowcross Woods it was full of riders and families on a Friday evening which was great to see before quickly popping out at the bottom of Roseberry Topping.
I then had a right shove up a really steep track to the top of Newton Moor, which overlooked Roseberry Topping. Looking at my map there would have been another way but seems I don't like to make things easy for myself.
It was at this point I knew I didn't regret my decision of sticking to my route - the sun in it's 'golden light' stage I was just happy to be still out riding my bike, in the middle of nowhere with myself having a lovely time, no pressure to be anywhere or do anything but pedal.
I sat on a rock with the sun starting to set eating more chocolate peanuts and it was nothing short of pleasing. Finding the inner quiet needed to reflect on things I found myself been grateful I had the resources to do that for myself. It's the state of mind I need in order to think. It's where I go to generate new ideas, practice selfishness, balance and reflection. This is what solo adventuring does to you - firing you into a self reflective state which normal life doesn't allow the time for and I was craving that.

Before I knew it was dark and still sat on this rock I popped my light on and decided to pick up the pace (no pun intended). Really quick track along Great Ayton Moor firing into a little woodland and found myself grinning at how fast my home was rolling and absorbing the uneven terrain beneath me.

Just on the other side of the wood I was at my final destination for the evening - Park Farm campsite at Kildale. I was greeted by the friendly owner who showed me where I could set up camp. It was 9pm and I laid on the grass in the dark encouraging myself to get up and set the tent up. A Yorkie bar and Firepot food pouch sent me to sleep with the noise of sheep in the distance and cows sniffing my bike.
Day 2. 56 miles. 7123ft of climbing.
I slept really well and a sipped on a quick coffee made on my stove, skipping breakfast because I was still full from yesterdays copious amounts of choccy peanuts and the FirePot pouch I then painstakingly packed everything back onto the bike.
It always amazes me how everything fits onto the bike, always seems like an overwhelming task and the thoughts of 'next time I may just bivvy' crossed my mind - it would be more uncomfortable but a lot less faffing and lighter on the bike. I'm just not a fan of the faff, too impatient and want to be on with riding and starting the adventure for the day. The Ortleib bags made it easier than normal and went onto the bike pretty quickly.
Day 2 had a grim start. Climbing up onto Battersby Moor was relentless with a steep push and I hate pushing my bike. Give me a steep hill to ride any day over pushing up a hill. Voom caffine bars helped me many times in these situations. Absolute rocket fuel!
Once I was on the top on Ingleby Moor it was pretty fast tracks around Greenhow Moor until I reached Urra Moor. Another relentless shove before the sole destroying push up Clay Bank which again, I bet there is a better way to get up without having to push. I was then greeted with some awesome singletrack on Busby Moor, maybe my favourite of the whole ride which quickly brought back all the smiles and the pain in my legs from all the pushing was long forgotten.

It was the hottest day of the year it was absolutely sweltering. I ran out of water a while back with no streams in sight and finally got to Lordstones Cafe. Bought myself a coke and bacon sarnie, I asked politely if they could fill my water up but they wouldn't help, I'll let you guess my reply on that one.


I then headed up onto Bilsdale Moor in the heat and with still no water I assessed my map which showed many streams coming up soon so I persevered. After hours of climbing in the heat and feeling like I wasn't covering many miles I finally welcomed a long fast descent on Snilesworth Moor down to a little stream. By this point I was desperate for water, perched under a little bridge I got my water filter out and filled both bottles up. I knew I was in a dark place at this point because I started thinking someone was stood on the bridge talking to me. Turns out nobody was there.
I drank all my water, refilled my bottles again and had a word with myself. Making my way to Square Corner I had another climb up onto Black Hambleton. When I looked at the climb I thought there was no chance I can get up there with tired legs, but the RC529 ate the climb and I was at the top before I knew it. By then I was on familiar terrain and descended quickly down Arden Great Moor.


Reaching Hawnby I had already used all of my water again and having to carry my bike over a locked gate on the bridleway I was just frustrated and feeling a tad emotionally unstable. Turns out I just needed more water which a lovely farmer helped with which sorted me out instantly. Amazing how you can survive on little food but lack of water can have some hefty consequences.I felt like I was edging closer to Blakey which was my final destination of the day. Really quick spin around Newgate bank which I welcomed with heavy legs before heading straight through Helmsley Moor and through a lovely deserted little valley up to Fadmoor.By then my legs felt surprisingly fresh all of a sudden and with a second wind I started ticking the miles off quickly, even tackling Gillamoor Bank was effortless compared to the morning I'd had. Before I knew it I was firing up from Lastingham on Spaunton Moor to Ana's Cross narrowly avoiding a couple of adders basking in the sun and then along the fast old railway track to the Lion Inn at Blakey.


My Mum and Dad were waiting for me, I was so happy to see their faces and even though I hadn't been gone long it felt like weeks since I had seen them, not just 2 days. I was feeling good, feeling like I may even challenge myself a bit more and just finish the route which was another 27 miles tonight so I can star fish in own bed but pie and pints with the parents got the better of me.
Afterwards I hugged them bye and set up camp at Blakey, which was amazing for only £3! The heavens then finally opened; it was pretty scary watching the lightening unfold in front of me but equally exciting, all cosy in my little tent watching Mother Nature do her thing.

Day 3. 27 miles. 1675ft of climbing - home.
My friend Alex came to meet me and gave me some company for the last short stint home. Even though I was happy by myself it was really nice spinning along having a conversation with someone instead of just in my own head and it happily distracted me from my tiring body.
Fast spin along the old Rosedale Railway line Blakey pub disappeared into the distance quickly. Greated by a huge shove out of Rosedale at Low Bell End Farm (great name) up Northdale Rigg and then onto Hamer Moor. The bridleway had disappeared and we couldn't find it, so we were left lifting our bikes over the knee deep heather. After speaking to Dad who knows these moors like his own back garden, turns out we wern't on the bridlemore at all, so I am going to go back with him at a later date so he can show me.
This moor had an eerie feel and later learnt there were some murder stories which all added to the atmosphere. Anyway I didn't care at this point, I was home bound. Once I had gone through Cropton it was a road stint home, all downhill was which nothing short of excellence.

Finished at 12:30pm and drank much wine.
Even though I was never too far from home, I felt far away - sometimes not seeing anyone for hours in some of the most rural and beautiful parts of the Yorkshire Moors, but that add to the whole adventure.
It was only a short adventure I know, but it wasn't a small challenge. You could easily tweak this route so there's a bit less climbing and incorporate more road if that's your bag and of course give yourself more time - Just a short weekend of therapy for me.

It was so cool to see places and ride amazing trails which is close to home and I had no idea they were there. You should definitely explore what's on your doorstep more, you really don't have to go far and never take the short cut.

This is exactly what I wanted, to visit locations allowed me to avert my gaze away from the familiar. To not worry about anything except riding my bike, just one pedal in front of the other.

Thanks Yorkshire and bikes, you're bloody mint.
Bike setup:
Pace RC529 - 29" steel Reynolds 853 frame
Hunt V2 wheels
Maxxis Ardent 2.4's front and rear tyres
Bike Yoke Revive
Rockshox Pike Ultimate RC2 charger 2.1
Sram Guide RS brakes
Sram GX Eagle
Hope Trail pedals
Ortlieb Waterproof handlebar bag, saddle bag, frame back and top tube pouch.
Alpkit Cloud matt
Alpkit Skyehigh sleeping bag
Alpkit Kraku stove
Other essentials:
Voom Caffeine Kick energy bars
Voom Electro energy bars
Natural Little Bee chamois balm
SPF Factor 50 suncream
Patagonia Houdini jacket (my choice but any light weight windproof)
Hope R2 light with 2 cell battery
Chargers for Garmin and phone
Anker powerpack
Tik tool
Innertube Pump/ multi tool / cleat / chain links / worms / small chainlube
Coffee
MSR water filter pump
Painkillers
Spare hanger
Toothbrush and paste